First NFT collection ever generated on
Bitcichain with lots of utilities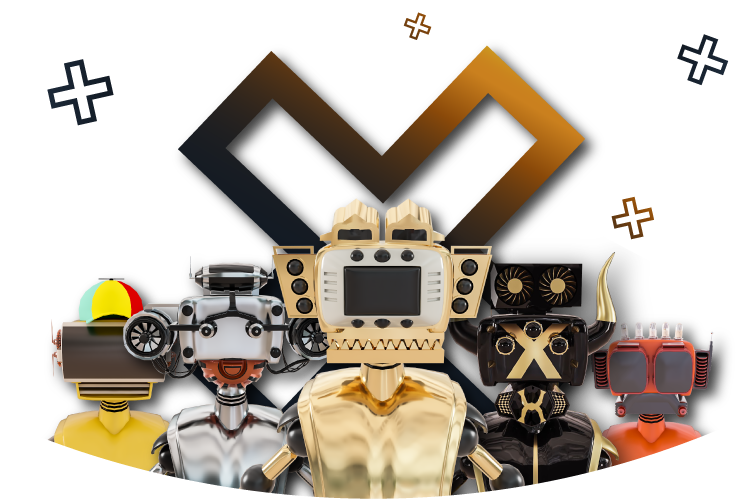 Bitci Bots are 10.000 robots living in the Bitci City Metaverse. It is both an avatar PFP collection and an asset used in the Bitci City Metaverse. By purchasing Bitci Bots NFT, you become a Bitci City Metaverse exclusive member. Metaverse is open to all users, but Bitci Bots will be the only character model in the Metaverse in robot form and will have privileges in the metaverse. The diffrent utility that the bots have among themselves will be determined by the rarity-based traits.
You don't need to be human to have a soul.
You can dance with your Bitci Bot and create something truly magical in the Metaverse.
Once upon a time, in a digital world called the Bitci City Metaverse, there lived a group of robots who loved to dance. They were known for their smooth and intricate moves, and every night they gathered in a large, neon-lit club to show off their skills.

One day, a new robot named Spark arrived in the city. Spark was fascinated by the dance robots and longed to join them, but he was different from the others. While all the other robots had sleek and modern designs, Spark was old and rusty, with clunky movements.

Despite the ridicule he faced, Spark refused to give up on his dream. He practiced day and night, determined to become the best dancer in the city. Slowly but surely, he improved, and soon he was performing alongside the other robots in the club.

The crowd was amazed by Spark's newfound grace, and he quickly became a sensation. The other robots started to look up to him, and they all began to work together to create new and exciting dance routines. The club was filled with energy and excitement every night, as the robots moved in perfect unison to the beat of the music.

The Bitci City Metaverse was changed forever, as the dancing robots showed everyone that it was possible to come together and create something beautiful, despite their differences. Spark was hailed as a hero, and he proved that anything is possible if you have the courage to chase your dreams.

0-Trading fee on
Bitci Exchange
By having the Bitci Necklace on your NFT you will get 0% trading fee on Bitci Exchanges!
Bitci City Metaverse Integration. Being able to use the areas that are exclusive to Bitci Bots holders.
Extra utilities in the collection are based on rarity. That means you can profit more than other basic trait NFTs.
In-game bonuses, rewards, giveaways and airdrops
Virtual concerts and events that specially organized for Bitci Bots Holders
By holding a Bitci Bot, you automatically become a shareholder of the Bitci Bots Treasury, granting you an airdrop based on the number of NFTs you own.
Meet with our fully-doxxed bot members
FREQUENTLY ASKED QUESTIONS